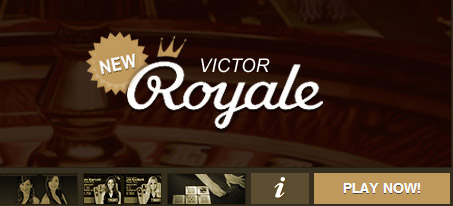 This time it's a Net Entertainment live casino, Victor Royale, and it offers two games, Roulette and Blackjack.   It's European Roulette with the option to have the standard European or French tables layouts. For those in the know Net Entertainment offer La Partage at some of the casinos that use their software, like Unibet, but BetVictor haven't taken that option.  Neither have they taken 7 Seat Blackjack, they just offer Unlimited Blackjack, where multiple players all play the same hand.
I think that it's great that BetVictor keep enhancing their live casino products, you've certainly got loads of choice now, the only big one they are missing now is Playtech, but I can't see them going that way!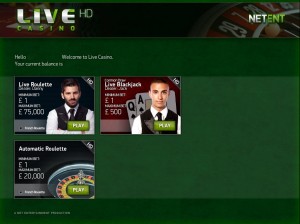 I really want to like the Net Entertainment live casino, but I can't.  It looks Great!. It has a very modern looking interface that is nice and clean.  The presentation of the games is also great. BUT and there is a but for me, I just don't like the Blackjack game setup on a number of levels.
Firstly – I just don't like playing common draw or Unlimited Blackjack.  I want my own cards dealt to me, not a common hand that we all bet on.  I want splits to be handled normally, not give the option to have 80% of my stake back if I don't want to play them. That's not the blackjack I learnt as a kid and grew up playing!
Secondly – I want the dealer to take two cards like the rest of us and peek for Blackjack when they are showing an Ace.  I don't want to build my hand and bet more money only to lose to the dealers Blackjack!
Thirdly and probably worst of all is the use of the Shufflemaster dealing shoes, where spent cards are returned to the shoe, so you effectively have a fresh shoe before every hand.
All three add up to a greater edge for the house and less for the player. I understand the reasons why but I don't have to like them and more importantly I don't have to play there. So I don't.  I choose to play at BetVictor's Evolution Live Casino, BV Grand instead.