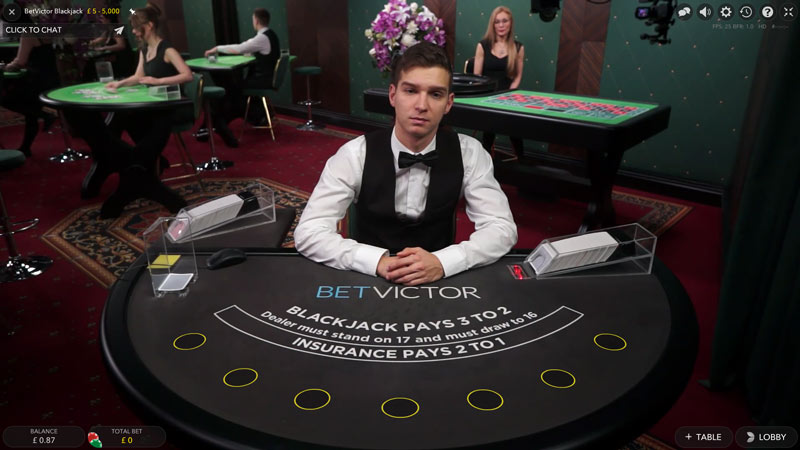 I fancied playing a bit of Live Blackjack on a Sunday evening at about 11 pm.
I went to my first go to the casino and all the tables were full. I mean all of them including the high roller ones.
Now I'd expect the generic Evolution tables to be full, but generally, I can get a seat at the dedicated tables. This time nope, nada, nothing.
So I went to my second go to and guess what, all the dedicated tables were full. And then the next and the next.
So almost in desperation, I thought I'd try my old favourite, Bet Victor. These guys have 4 live casinos but I only wanted to play at The Evolution one as I wasn't in the mood for the others.
Bet Victor has one dedicated Live Blackjack table. So what're the chances of getting a seat there?. Well, amazingly 100%. The table was empty! Everything else was full but the dedicated £5 – £1000 table was all mine.
I sat down, was greeted by the dealer and started to play.
I like a quick game and on this occasion, I was in the mood for quick hands. So Bam Bam Bam I'm hitting the deal now button as soon as it pops up.
The dealer has to abandon his annoying habit of running his fingers across the top of the dealing shoe just to keep up with me.
I'm not doing anything strange, just playing basic strategy and we get through the first shoe in no time. I'm up about 4 hands.
I regret not playing the side bets as I hit trips twice and get flushes and straights like they are going out of fashion. (read more about Blackjack Sidebets).
Then I'm joined for a few hands by someone. It changes the dynamic of the table and we both lose a few hands. He disappears and I double my bet and start winning again.
I'm joined by another who also has a penchant for a fast game and we race through the remaining shoe.
A dealer change interrupts the flow, but she deals the cards more quickly, but makes mistakes, like dropping cards, flipping them over. Less haste more speed as my Dad used to say.
I'm on a winning run and hit my 3 x deposit profit after about 45 minutes of play. Shame I was enjoying myself. But 300% profit isn't to be sneezed at, so I hit the X, go straight to Banking and withdraw the lot.
Now that is how sessions need to be.