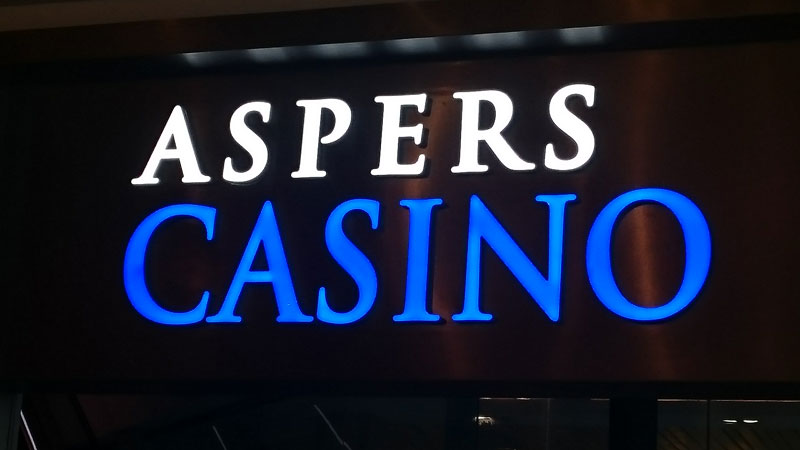 An excuse to visit Aspers Casino.
I got a late invite to watch West Ham United's first home game in their new stadium at Olympic Park in Stratford, East London. They played NK Domzale in an Europa League qualifier, running out 3-0 winners on the night and 4-2 over both legs. It was a good night of football and the new stadium is great.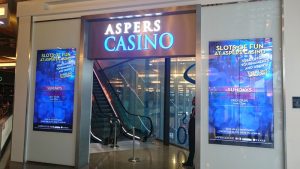 Before the match  I met up with my mate and went spent a few hours gambling in Aspers Casino. It's a large "Super Casino" with the entrance located on the second floor of the Westgate Shopping center. An escalator takes you up one more level to the gaming floor.
It's my second visit to the casino but I was still taken aback by the bight flashing lights from the slots section. I found the Loyalty desk and joined the loyalty program so I could get discounts while in the casino on food and drinks and rack up playing points. I always like a freebie.
Aspers Casino has loads of table games, banks of roulette tables and a full range of card tables. I fancied playing 3 card poker for a while. I know, it's one of those games that can destroy your bankroll really quickly. But I love the game and get a real kick from the slow reveal after you're dealt your cards.
I think I managed about 30 mins at the table. I probably only played about 6 hands, the dealer was so slow and I'd only hit one set of pairs, lost everything else so was down to my last £50.
I decamped at that point for a Blackjack table.
I love Blackjack as well and there are quite a few tables at Aspers Casino. However even at 5:00 pm in the afternoon they were mostly full. I guess there may have been more customers due to some of the 50,000 West Ham fans being in the casino. Anyway I found a seat, well technically I found a spare box, all the seats were taken so I had to play my first few hands standing up until the guy next to me bust out.
I generally play the main bet, no side bets, but as the minimum for the sides bets was £1 so I put a couple of quid on Perfect Pairs and 21+3 on each hand I played.
Luckily I managed to hit a flush on my 3rd hand which restored some of my bankroll and meant that I could probably play for a while, given careful play to standard strategy.
The payouts for side bets were on the stingy side, any 21+3 wining hand only paid 9:1 and a Perfect Pair paid 25:1, lesser for coloured and mixed pairs.
I'm a regular player at online live casinos and you can get much better payouts for blackjack side bets if you do your research on where to play and there can be a massive difference between payout structures. Still the choice was mine to play them.
I had a run of bad hands and lost both the side bets and main hands. In fact I was down to my last bet when I hit the 21+3 side bet again. I then proceeded to hit it twice more. Suddenly my box became hot and everyone was betting behind and loving it. I managed to bring my bankroll back up and even into a small profit before I left the table.
My mate didn't do so well. He has a love for the stranger card games. He played a variety of Ultimate Texas Holdem. It's one of those games that if you win and your playing all the side bets you can do well. If you lose a few hands you bankroll can just vanish. That's what happened.
He also likes Roulette, his numbers are 11, 14 and 20 and bets those all the time. His luck wasn't in and he kept joining the wrong table. I'd hear him moaning as he looked at the tables he wasn't playing and seeing his numbers come in.  Oh the joy of being a roulette player!
All in all we had a good few hours in Aspers Casino. I came out just ahead by a few pounds, my mate was down about £100 so not that disastrous.
Aspers is a great casino. If you love slots there are loads and there's plenty of tables and a poker room if that's your preference.
I'd recommend joining the loyalty program, even if your there for the evening as you'll get 50% off Drinks and some food. You'll also be able to use the cash desk for withdrawals for free, as the ATM's in the casino all charge for withdrawals. (there is an ATM outside that doesn't).