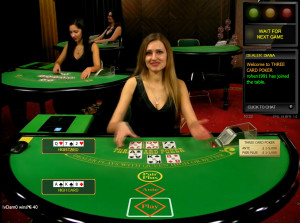 Well I've been playing live three card poker this week. It's just been introduced by Evolution Gaming, my most favorite live casino software operator and Unibet are one of the early adopters again. It's your three cards against the dealers, so not a great deal of decision making is needed.
Will my hand beat the dealers?  The return to player on this game is 96.63% for the Ante bet and 95.51% for the Pair Plus bet, which is no where near the return on Live Blackjack.
So did I win? Nah, lost my bankroll in about an hour, I was being stupid and chasing my losses by upping my bet, only one way that's going to end up. lol!!
I much prefer live three card poker to live casino holdem.  I just can't get my head around just playing the dealer when the main fun of Texas Holdem is the betting , bluffing and tactics associated with each community card being dealt.  That said,  Live Casino Holdem is very popular so you can't knock it, it's just not one of my favourites.